You can, besides relaxing and swimming in the private pool, also undertake all kinds of activities. We have listed some activities for you.
Walking
The walking tourism in Benissa is a good leisure option. There are different routes to walk and you can enjoy the rich natural environment with mountains such as Bèrnia, La Solana, Oltà and Malla Verda. There are numerous documented and well-signposted routes in the municipality of Benissa.
Route of the Hermitages Ermita de Pinos, Ermita de Benimarco, Ermita de Santa Ana, Ermita de Pedramala, Ermita de Lleus, Ermita de Benimarraig. The hermitages were built in the various rural hamlets of the municipality, because the connecting roads to the city center were inadequate. As a result, small churches called "ermitas" were built in the most densely populated hamlets to meet the religious needs of the parishioners. Most of the hermitages have been well preserved and parties are still being celebrated year after year. Walking the route of the hermitages is getting acquainted with the history of the municipality and at the same time enjoying the beautiful natural surroundings.

PR route Oltà This is a two-hour route, 7 km long, of moderate difficulty. You can do the route on foot, by bike or on horseback. It is a route that runs around the Monte Oltà in clockwise direction. One can also reach the top, but then the route takes 30 minutes longer for 1 hour.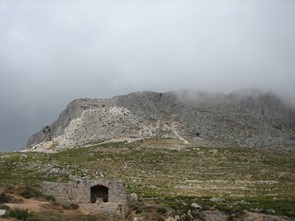 PR route La Solana
A route that offers spectacular views from the Montgó to the Sierra de Oltà, as well as of course on the Mediterranean Sea and on the Peñón de Ifach. From the top of la Solana we can distinguish villages such as Lliber, Senija and Jalón. If you leave from Benissa, the route takes 4 hours. She is of a moderate difficulty and occupies a total of 12 kilometers. The route side can be covered on foot or on horseback. 
Route PR-V7 Bèrnia
The Sierra de Bèrnia is spread over the territories of Altea, Benissa, Calpe, Callosa d'En Sarriá and Jalón. It is a mountain range that rises to an altitude of 1,129 meters and separates the regions of Alicante, Marina Alta and Marina Baja both physically and climatically. One of the most representative routes of the Sierra de Bèrnia is the circular route that runs from Les Cases de Bèrnia to the Font de Bèrnia. If you continue walking through el "Forat" you reach the Fort and you can then return to Les Cases de Bèrnia. It is a route of moderate difficulty and it takes about three hours.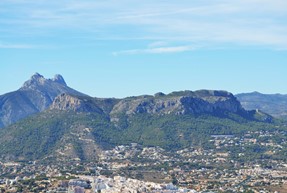 Tennis & fitness
Within walking distance of our apartments you will find the Tennis Club Buena Vista with 6 clay courts, gym, sauna and restaurant. Yoga and dance classes are also offered.
Golf
Our apartments are also perfect for a nice golf holiday, because in the immediate vicinity there are well-groomed golf courses with all facilities.
Bicycles
Because of the climate and the many hills and mountains, the Costa Blanca is increasingly used as a training area by various cycling teams and mountain bikers. Of course, the sporty holidaymakers also find an ideal area for tours and training here. You can contact several bike rental companies.
Kitesurfing
In Calpe there is a Kitesurfing zone in the sea where competitions are held. Of course you can take lessons here and rent equipment.
Diving and snorkeling
Due to the absence of heavy industry in combination with an ecologically responsible coastal policy, the sea water, many beaches and marinas on the Costa Blanca and especially on the Marina Alta, the coastline between Denia and Altea, have been declared the cleanest in Europe and many have been crowned with the blue flag. You will still find beautiful and secluded diving areas on the Marina Alta with a clear view of a spectacular undersea world. There are also many dive sites and schools on the Costa Blanca where you can rent the necessary stuff and / or complete courses and lessons.
Water sports
In Les Bassetes, a small bay on the coast of Benissa, you will find the Nautical Club Nautical Center. At this school you can learn everything about how to sail the sea on a board or in a boat, such as sup, sailing, windsurfing, catamaran and kayak.
Horse riding
The Costa Blanca also lends itself well to horse enthusiasts certainly more inland where many donkey trails can be found and deserted roads. A few minutes drive from our apartments you will find the Club Hipico Benissa. Through qualified instructors, Club Hípico Benissa offers various equestrian disciplines on purebred Spanish horses, to students of all levels and abilities. They also offer trails and walks, roads and paths to the Peña de Olta, Lleus area, Lliber, Jalon, Gata, Parcent etc .. where you can enjoy the you enjoy the beautiful landscape.
Markets
The Costa Blanca is well endowed with different markets, the weather also helps a hand. You can visit the following days:
Monday in Denia and La Nucía

Tuesday in Altea and Jalón

Wednesday in Benidorm, Teulada and Benitachell

Thursday in Javea, Pego and Villajoyosa

Friday in Moraira, Dénia and Alfàz del Pi

Saturday in Benissa and Calpe

Sunday in Albir
Flea markets
There are several well-visited flea markets in the region. The market in Jalon is worth a special mention, large cozy market and for wine lovers to combine well with a visit to the different bodegas of this town.
Saturday in Jalon and Benissa

Sunday in Pedrequer, La Nucia and Teulada
Theme parks
There are various attraction, theme and animal parks in this region. Below you will find a number in Benidorm:
Aqualandia: Water theme park with various attractions for different ages. Open from April to November.

Mundomar: Animal park with mainly birds and dolphins. Show with dolphins, suitable for young and old

Terra Mitica Park: Theme park with many major attractions. Festivities and cultural activities Throughout the year, various activities are organized in Benissa such as conferences, theater, concerts, film, excursions, camping, markets, traveling exhibitions of painting, sculpture and photography.
Festivities and cultural activities

Throughout the year, various activities are organized in Benissa such as conferences, theater, concerts, film, excursions, camping, markets, traveling exhibitions of painting, sculpture and photography.